Fishing on Weiss Lake "The Crappie Capital of the World"
Bream are a fish that are found through Alabama's freshwater lakes. They are named for the blue edges of its gills. The Bluegill is an especially abundant variety, making it ideal for young anglers fishing on Weiss Lake.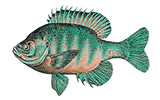 The large mouth bass are very poplar fisherman on Weiss Lake. These fish are easy to recognize due to its large jaw and extended lower lip and is known to put up a fight when hooked. They make for a great day on the water!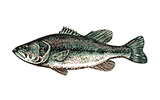 Striped bass have elongated bodies and continuous black stripes from nose to tail. Fisherman on Weiss Lake love the stripes from nose to tail. Fisherman love the variety of angling methods that can be used to catch this sport fish. That is what is great about fishing Lake Weiss you never know what to except besides great fishing!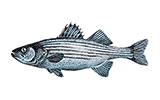 "Weiss Lake is the Crappie Capital of the World" Fisherman come from all over to fish Lake Weiss! Crappies have a mottled looking appearance and are commonly lime green and gray in color. Fisherman enjoy the variety of methods for catching this game fish.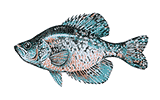 Channel catfish have a forked caudal fin and protruding upper jaw. These fish are abundant in freshwater with sand aquatic vegetation and submerged trees.