About Weiss Lake
Weiss Dam was the first dam built as a part of an Alabama Power Company construction program that further developed the Coosa River in the late 1950s and the 1960s. The facility was named after F.C. Weiss, a former chief engineer of Alabama Power. The story of Weiss Dam and Weiss Lake began as a story of energy. It continues today as a story of flood control, recreation and economic opportunity, irrigation and drinking water, and fish and wildlife habitats. (Source Alabama Power Website.). Communities surrounding Weiss Lake are: Cedar Bluff, Gaylesville, Centre, and Leesburg.
Weiss Lake Facts
Weiss Lake covers- 30,000 Acres, 400+ Miles of Shoreline – Weiss Dam is unique to Alabama Power's system because the spillway gates are about four miles from the powerhouse. The summer pool of Weiss Lake is 564 feet above sea level. Weiss is a storage lake and thus has a seasonally varying water level. Power production is enhanced if Weiss is maintained at the highest level during the hot summer months when the public demand for electricity is greatest. t. Three Rivers feed Weiss Lake: The Coosa River, Chatooga River, and Little River.
Property Search
Crappie Capital of the World

Weiss Lake is often referred to as the "Crappie Capital of the World" and since its early days has been an attractive destination for fishermen. Other popular species found at Weiss include: largemouth bass, striped bass, hybird stiper, bluegill, longear sunfish, redear sunfish, channel catfish, blue catfish, flathead catfish, and freshwater drum.
Cornwall Furnace

Located on Weiss Lake is Cornwall Furnace. Cornwall Furnace was built near the town of Cedar Bluff. Constructed of limestone from the nearby Coosa River, the 35 foot-high furnace was the first such facility to supply iron for the casting of Confederate cannons during the Civil War.
Abundant Wildlife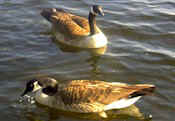 The wildlife at Weiss Lake is AMAZING! The Resident Geese make a mess, but they are fun to watch year round. In the winter Weiss Lake hosts a variety of Pelicans and other migrating birds. Weiss Lake is home to 6 nest of bald eagles, lots of deer, beavers, owls, and all sorts of bugs.
Little River Canyon and Waterfall


One of the three rivers that feed Weiss Lake is Little River. Little River and the canyon it created, are two of the most popular outdoor attractions in Cherokee County. Just a short drive from Weiss Lake is one of the extensive canyon and gorge systems in the country. the Canyon is distinguished by towering cliffs, rushing Class V water, and scenic waterfalls. In 1992, Congress designated Little River Canyon a Nation Preserve, thus making it one of the cleanest rivers in the Southeast. The Little also includes extensive fish populations, such as rainbow trout, redeye bass, catfish, and bream.
Cherokee Rock Village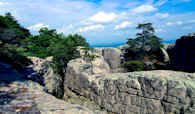 Marvel at view from Lookout Mountain. You can spot Weiss Lake and part of two states. Vist the imaginary village made of enormous boulders. Rock climbing, primitive camping, hiking and nature trails.
Terrapin Creek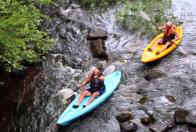 Terrapin Creek is not really a whitewater run, but it is a nice moving water float through pasture land in east Alabama. At 650 cfs, the water moves nicely for at least half of the run. The area a few riffles and one class I/II rapid towards the end. This is a very nice family float or introductory run for those looking for moving water practice or a place to work on their roll. Terrapin will hold water longer than most runs due to watershed lakes in its headwaters. Terrapin Outdoor Center is "Alabama's Largest PaddleSports Retailer and #1 Kayaking Destination"
Desoto State Park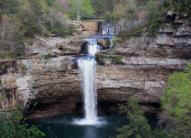 Desoto State Park is nestled atop beautiful Lookout Mountain in scenic Northeast Alabama and accented by many rushing waterfalls and fragrant wildflowers that will simply take your breath away. Developed in the late 1930s, the hard-working and dedicated men of the CCC made many natural enhancements to the park that have withstood the test of time and will last for future generations. Desoto State Park is located about 30 minutes northeast of Weiss Lake.